Two brand new books published in 2018 are destined to become Michigan archaeology classics: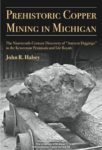 Prehistoric Copper Mining in Michigan – The Nineteenth-Century Discovery of "Ancient Diggings" in the Keweenaw Peninsula and Isle Royale by John Halsey examines how nineteenth century explorers and miners used evidence of prehistoric copper mines as a guide for where to establish their own much larger mines, destroying the archaeological record in the process.  He uses mining reports, newspaper accounts, personal letters and other sources to reconstruct what these nineteenth century discoverers found, how they interpreted the material remains of prehistoric activity, and what they did with the stone, wood, and copper tools they found at the prehistoric sites.  Published by University of Michigan as Anthropological Papers 99. It can be purchased directly from the publisher or through Amazon.com.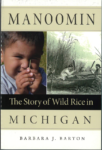 Manoomin – The Story of Wild Rice in Michigan by Barbara Barton focuses on the history, culture, biology, economics, and spirituality surrounding this important plant. The story travels through time from the days before European colonization and winds its way forward in and out of the logging and industrial eras. It weaves between the worlds of the Anishinaabek and the colonizers, contrasting their different perspectives and divergent relationships with Manoomin. Barton discusses historic wild rice beds that once existed in Michigan, why many disappeared, and the efforts of tribal and nontribal people with a common goal of restoring and protecting Manoomin across the landscape. Published by Michigan State University Press. It can be purchased directly from the publisher or through AbeBooks.com.
The four books below are recommended as starting points for those desiring to acquire a basic knowledge of Michigan archaeology and of the people who created Michigan's archaeological record.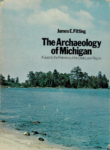 The Archaeology of Michigan by James Fitting covers 12,000 years of Michigan's prehistory. It takes an ecological approach, interpreting the archaeological record as a product of the way people adapted to the environment they lived in. Changes in the kinds of artifacts people made and left in the ground are viewed as responses to change in Michigan's climate, vegetation, and animal populations. Dr. Fitting held many positions in the course of his career, among them were Curator of the Great Lakes Division of the Museum of Anthropology and Assistant Professor in the Department of Anthropology at University of Michigan, Associate Professor of Anthropology at Case Western Reserve University, editor of the Michigan Archaeologist, and State Archaeologist of Michigan.     (Published 1970)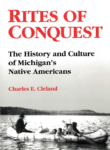 Rites of Conquest by Charles Cleland is an in depth look at the history and culture of Michigan's Ojibwa, Ottawa and Potawatomi people, the Anishnabeg. This book combines information from historical documents with the results of research in anthropology, linguistics, archaeology and ecology to create a clearer view of the Anishnabeg and their 350 year history of interaction with the French,  British and Americans.  Dr. Cleland was Professor of Anthropology and Curator of Archaeology and Ethnology at Michigan State University for many years.    (Published 1992)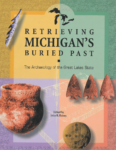 Retrieving Michigan's Buried Past edited by John Halsey covers Michigan archaeology from the close of the ice age through the historic period.  38 different authors contributed to the 13 chapters of this book. In bringing together such a large community of distinguished authors  Dr. Halsey produced a book that draws on a vast amount of knowledge and wide range of perspectives. It takes the reader on a 477 page deep dive into Michigan archaeology. Dr. Halsey served as Director of Salvage Archaeology at the State Historical Society of Wisconsin prior to becoming Michigan's State Archaeologist.   (Published 1999)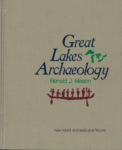 Great Lakes Archaeology by Ronald Mason looks at Michigan archaeology from a regional perspective which includes portions of adjacent states and Canada. Since our modern political boundaries did not exist when the vast majority of Michigan's archaeological record  was being created, interpretation from a regional viewpoint rather than stopping at the state line is very helpful in studying the archaeological record.  Dr. Mason served as Professor of Anthropology and Professor of Social Science at Lawrence University in Wisconsin.        (Published 1981)
The books listed above are all available for purchase on the internet. Amazon.com or AbeBooks.com make it very easy to buy new and used books through the internet if you want to own a personal copy, or they can often be borrowed from a local library.
Back issues of The Michigan Archaeologist are a great source of information on a wide range of subjects in Michigan archaeology.  The Omnibus Issue which combines volumes 50, 51 and 52, and the Margaret B. Holman Memorial published as Volume 54 are both highly recommended reading. For more about the Michigan Archaeologist and issues available for purchase from the Michigan Archaeological Society click here.  Past issues no longer available from society inventory can sometimes be purchased  through Amazon or AbeBooks.
There are many other excellent books on Michigan archaeology and closely related topics. Some examples are listed below.
Site Reports and Artifact Typology
Two Terminal Archaic Woodland Sites in Central Michigan by Scott Beld  (1991)
Early Late Woodland Boundaries and Interaction: Indian Ceramics of Southern Lower Michigan by Janet Brashler   (1981)
Stone Age Spear and Arrow Points of the Midcontinental and Eastern United States by Noel Justice  (1987)
Essays in Honor 
Investigating The Archaeological Record of the Great Lakes State: Essays in Honor of Elizabeth Baldwin Garland edited by Margaret Holman, Janet Brashler, and Kathryn Parker  (1996)
An Upper Great Lakes Odyssey: Essays in Honor of Charles Cleland edited by William Lovis  (2004)
Historical Archaeology
The Cater Site: The Archaeology, History, Artifacts, and Activities at This Early 19th Century Midland County Site edited by David Frurip   (2001)
Invaded on All Sides: The Story of Michigan's Greatest Battlefield by Ralph Naveaux  (2008)
An excellent series of publications about the history and archaeology of Fort Mackinac and the surrounding area are available on the Mackinac State Parks website. To see those publications click here.
Underwater Archaeology
Beneath the Inland Seas: Michigan's Underwater Archaeological Heritage by John Halsey and Wayne Lusardi   (1990)
Caribou Hunting in the Upper Great Lakes: Archaeological, Ethnographic, and Paleoenvironmental Perspectives edited by Elizabeth Sonnenburg, Ashley Lemke, and John O'Shea  (2015)
Copper 
Lake Superior Copper and the Indians: Miscellaneous Studies of Great Lakes Prehistory by James Griffin  (1961)
Prehistoric Copper Mining in the Lake Superior Region by Roy Drier and Octave Du Temple  (1961)
Geology and Paleontology
In Quest of Great Lakes Ice Age Vertebrates by J. Alan Holman   (2001)
Geology of Michigan by John Dorr and Donald Eschman   (1970)
Under Michigan: The Story of Michigan's Rocks and Fossils by Charles Barker  (2005)
Historical Fiction
Beyond the Far Horizon: Adventures of a Fur Trader by Charles Cleland  (2015)
Books for Children
Archaeologists Dig for Clues by Kate Duke   (1997)
Archaeology for Kids: Uncovering the Mysteries of Our Past, 25 Activities by Richard Panchyk   (2001)
Hands-On Archaeology: Real-Life Activities for Kids by John White  (2005)
Older Books, Sometimes Available as Reprints
Indian Life in the Upper Great Lakes 11,000 B.C. to A.D. 1800 by George Quimby  (1960)
The Indians of the Western Great Lakes 1615-1760 by W. Vernon Kinietz)   (1940)
Primitive Man in Michigan by W. B. Hinsdale (1925)
The Michigan Fur Trade by Ida Johnson  (1919)
Indian Culture and European Trade Goods by George Quimby  (1966)