Archaeology Day 2019 is Saturday, October 19 at the Michigan History Center in Lansing. Admission is free and parking is free. Be sure to mark your calendar.
Please don't forget to pay your 2019 MAS membership dues. It only takes a few minutes to pay with your credit or debit card if you go to the About Membership page and use the simple PayPal  payment process.
The 2019 MAS Annual Meeting was held on Sunday, April 28 in Ionia at the John C. Blanchard House Ionia County Historical Society Museum.  MAS members in attendance very much appreciated the hospitality of the Historical Society and the opportunity to meet in such a strikingly beautiful historic building.  The home is constructed of very colorful sandstone quarried from bedrock near Ionia and the interior is furnished with a wonderful collection of period antiques. For anyone who has never visited the Blanchard House, a stop there is highly recommended: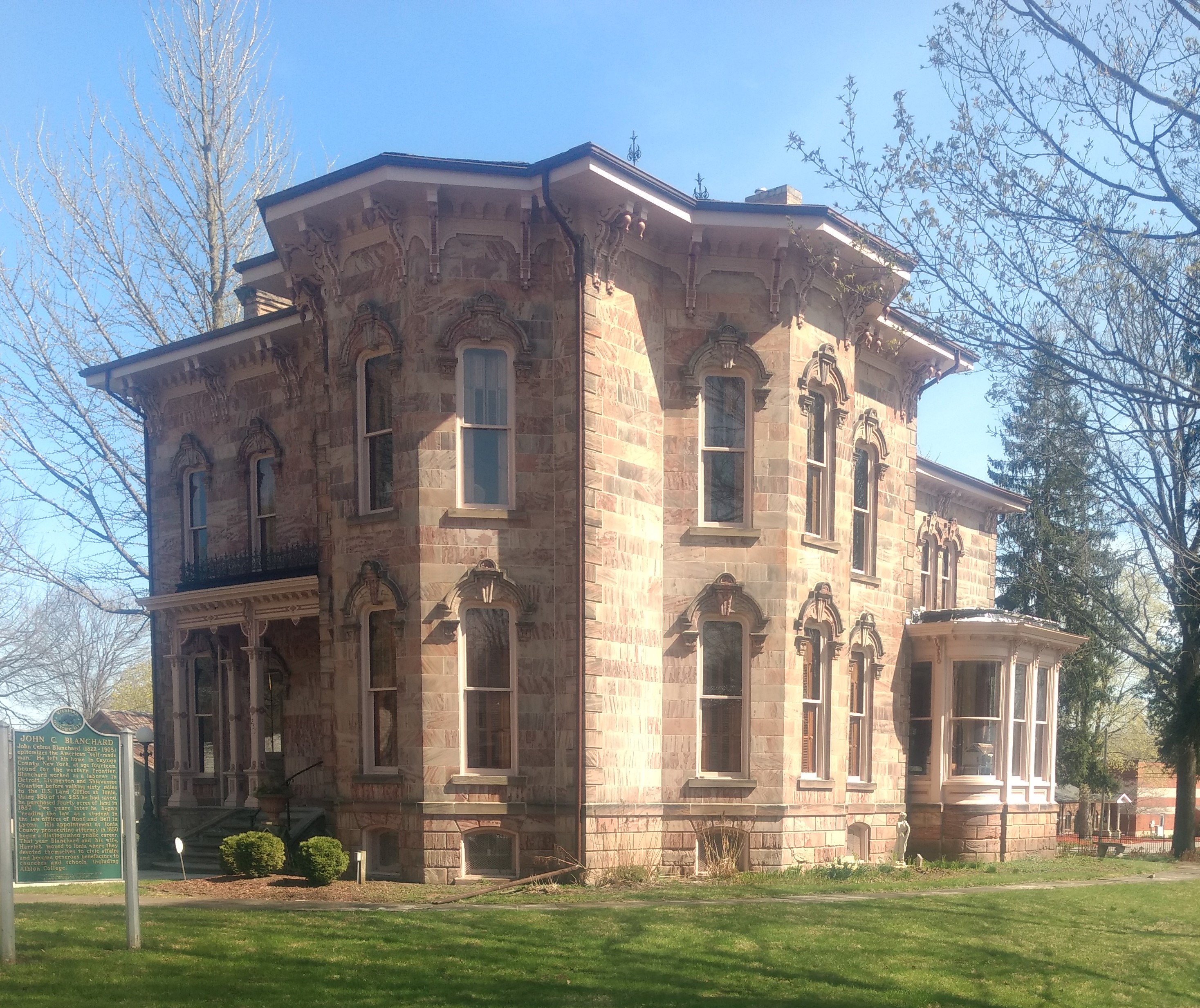 A high point of the 2019 annual meeting was the presentation of awards recognizing MAS members for important contributions they have made in the practice and promotion of archaeology in Michigan:
Dr. Dean Anderson was presented with the MAS Merit Award. The Merit Award recognizes sustained, outstanding, and significant contributions to Michigan archaeology. Dean has served as an archaeologist for the state for 27 years including the past 9 as Michigan's State Archaeologist. He has promoted public outreach, particularly at the annual Archaeology Day event that has expanded to include over 100 professional and avocational program participants from across the state and now attracts over 1000 attendees. Guided by  his leadership, Archaeology Day has become THE event for Michigan archaeology. He has also guided maintenance of the State Archaeological Site File, the primary data set for thousands of years of Michigan archaeology. Dean has been known for providing stewardship to students, avocationals, and professionals alike.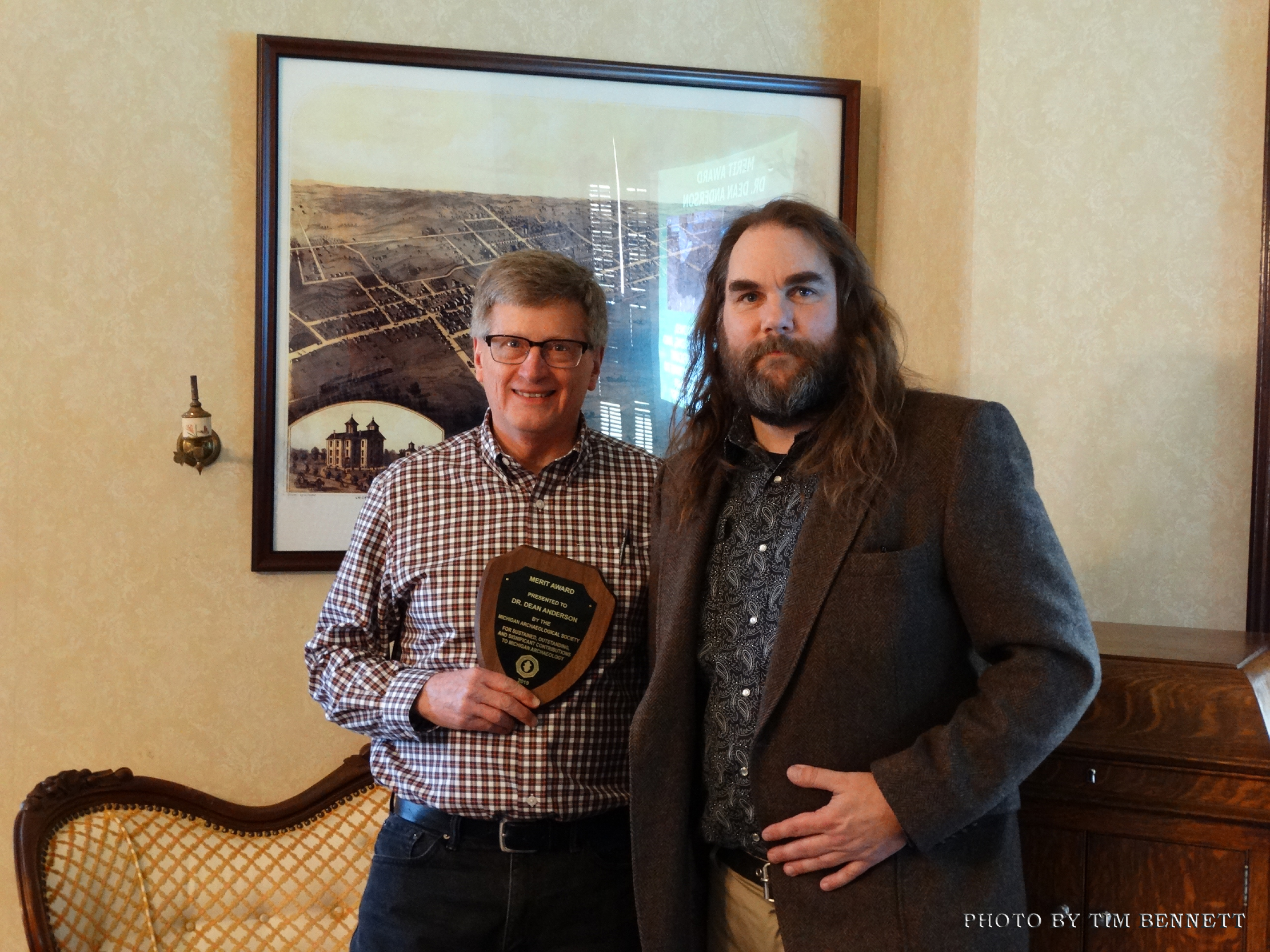 Donna Davis was recognized with a Distinguished Service Award. Donna has worked at a number of sites around Michigan. Most notably, though, she has served as MAS Treasurer for 14 years in addition to serving as Treasurer of the Clinton Valley Chapter for 7 years.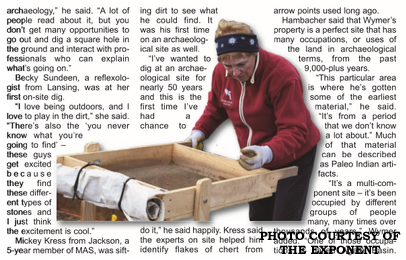 Theresa Breza was presented with the Distinguished Service Award. Theresa has volunteered at a number of sites in Michigan. Most notable is her service as MAS Secretary for 13 years in addition to many years as Secretary of the Saginaw Valley Chapter.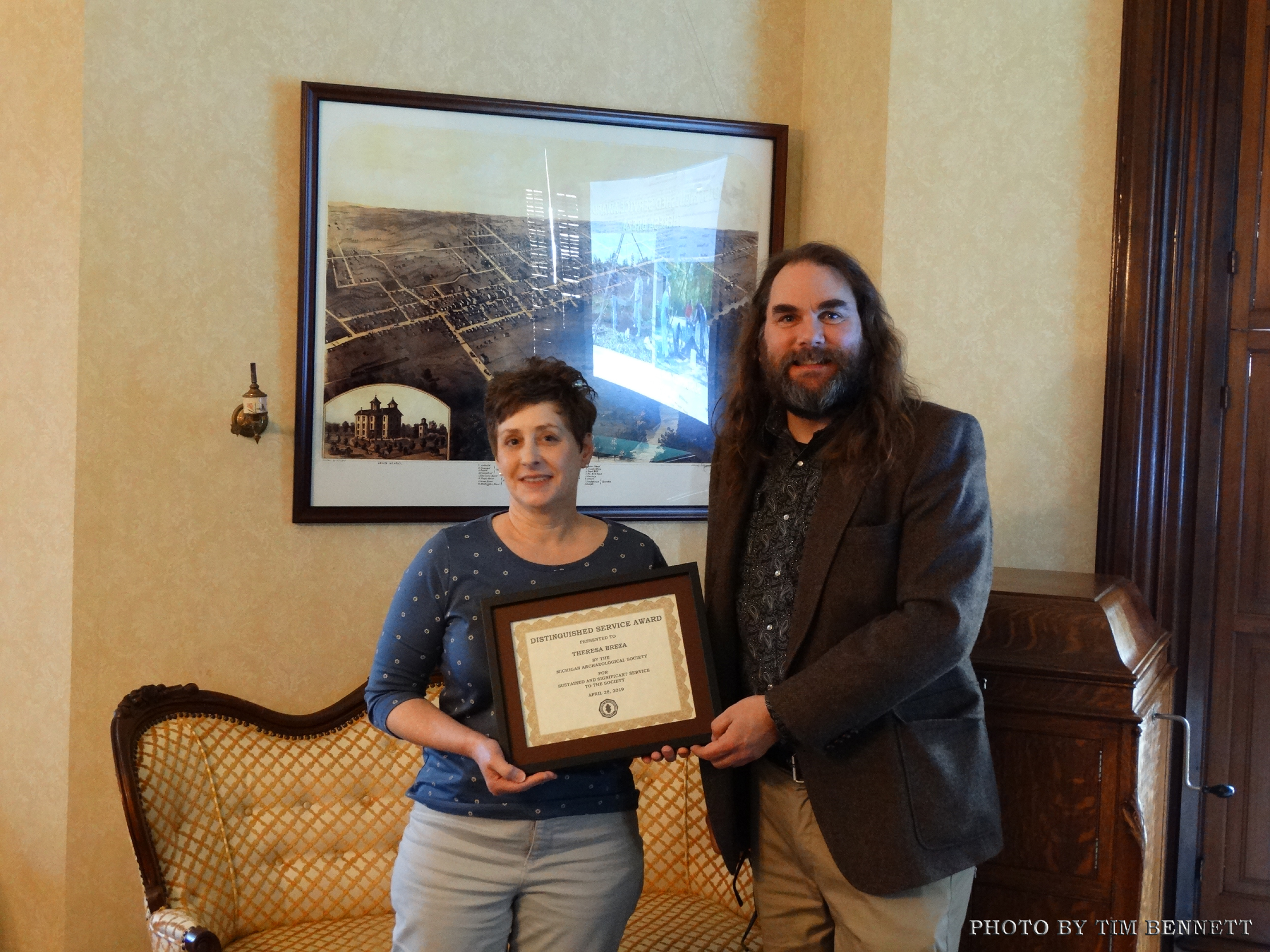 Julia Joblinski received the MAS Student Award. Julia has volunteered at a number of sites around Michigan, presented papers on archaeological subjects, and is now serving on the MAS state board.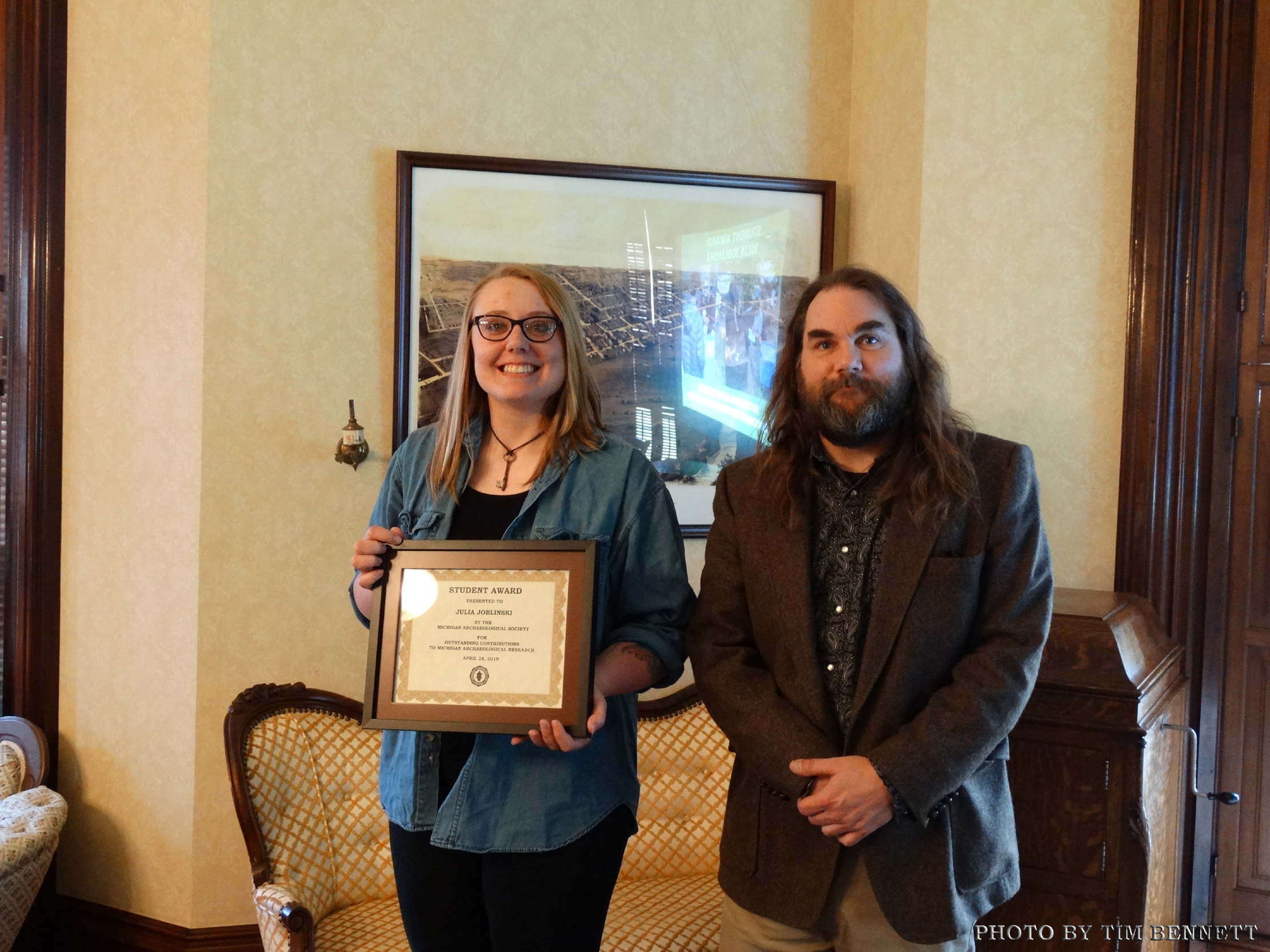 Bob Theiner was recognized by the MAS with a Volunteer Award. Bob has assisted at a number of sites, most notably at Thunder Bay National Marine Sanctuary where he helps document and curate nearly 2,000 artifacts. He is currently the Thunder Bay Chapter Vice President.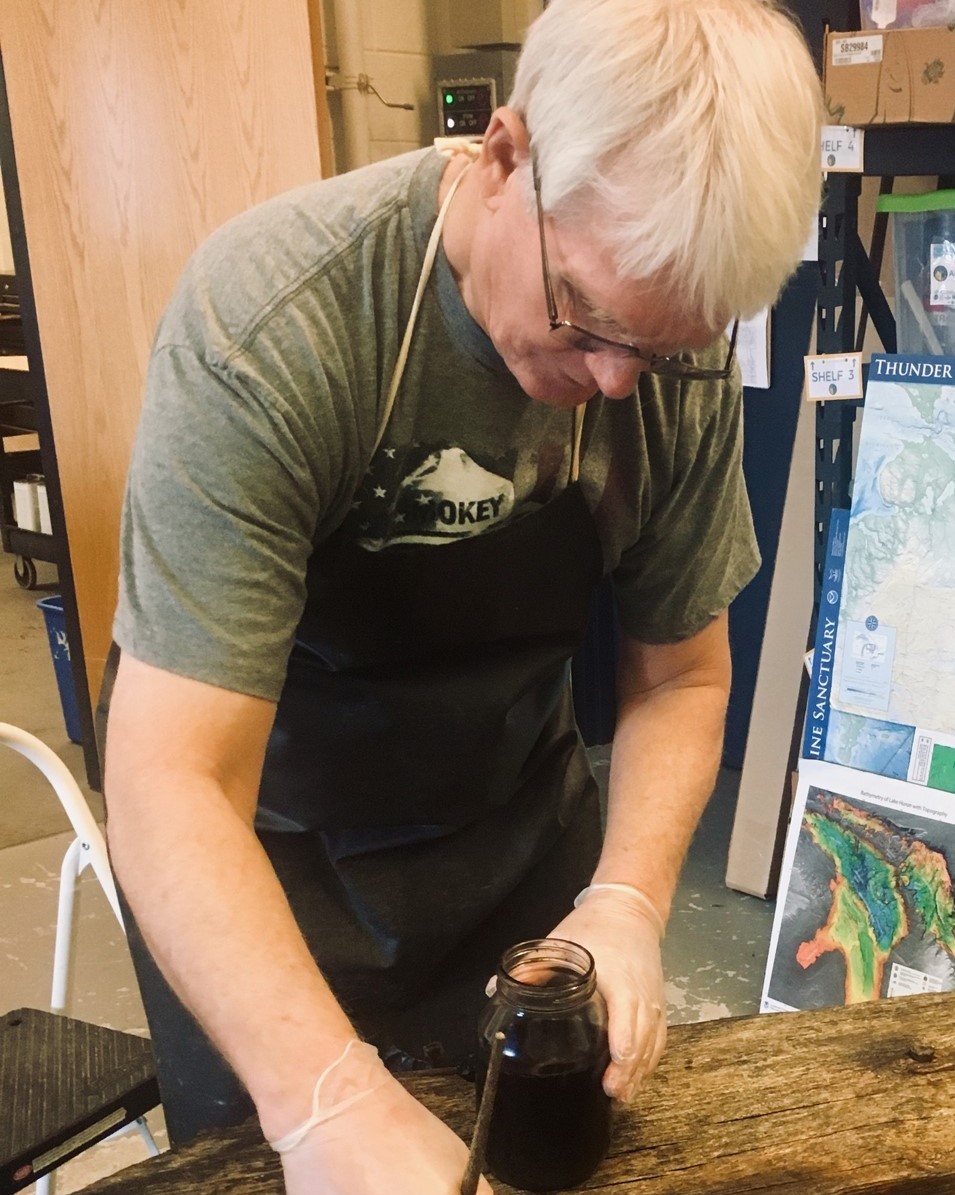 Ken Kosidlo, John Heintz, Dave Hamilton, and Mike Mauer of the Castle Museum team were recognized with Volunteer Awards. They have assisted in field and lab work, particularly at the Clunie Site, a Late Prehistoric  habitation site in the Saginaw Valley. Together they have logged nearly 3,500 hours in the field and an astounding 11,000+ hours in the lab.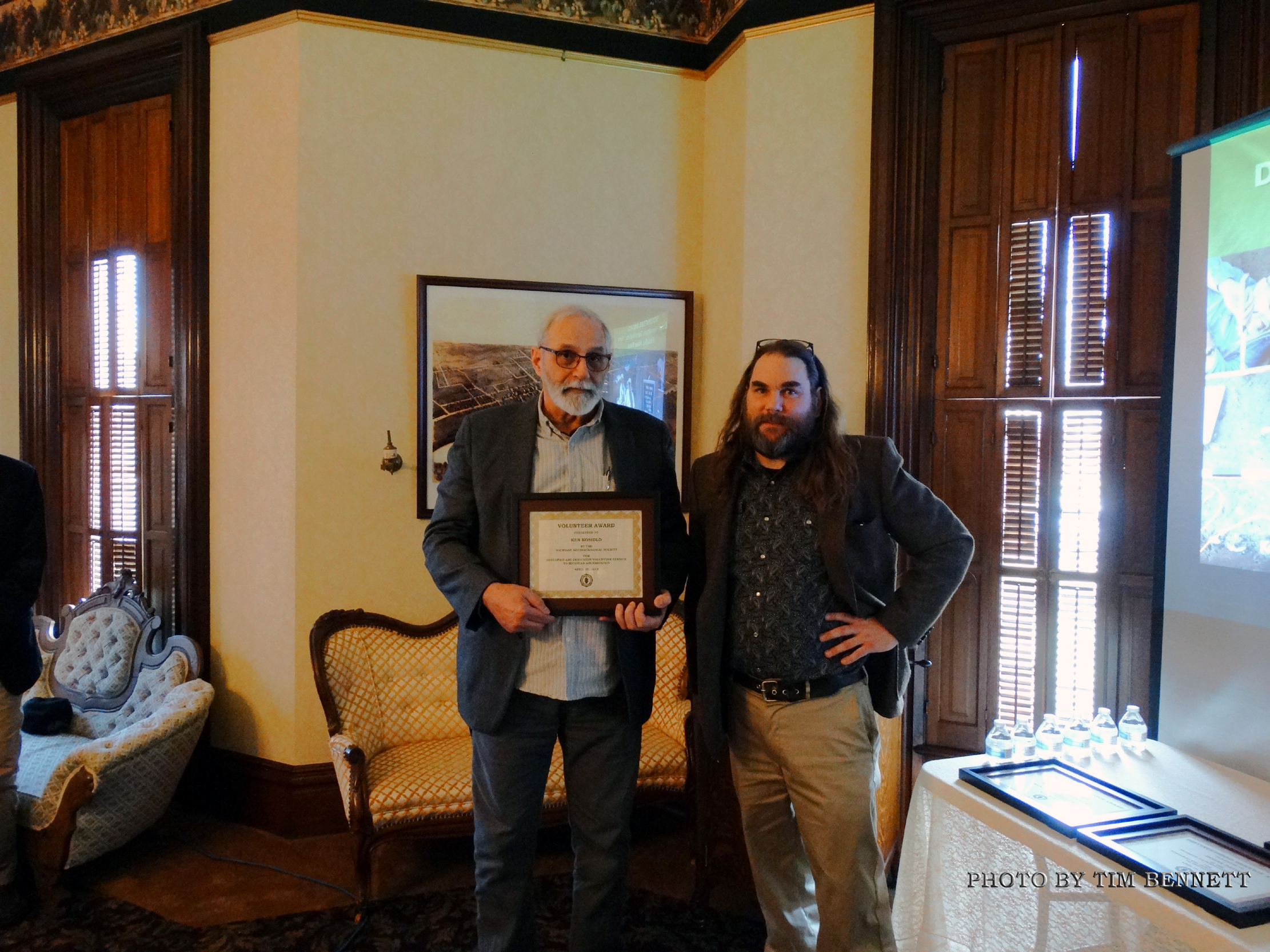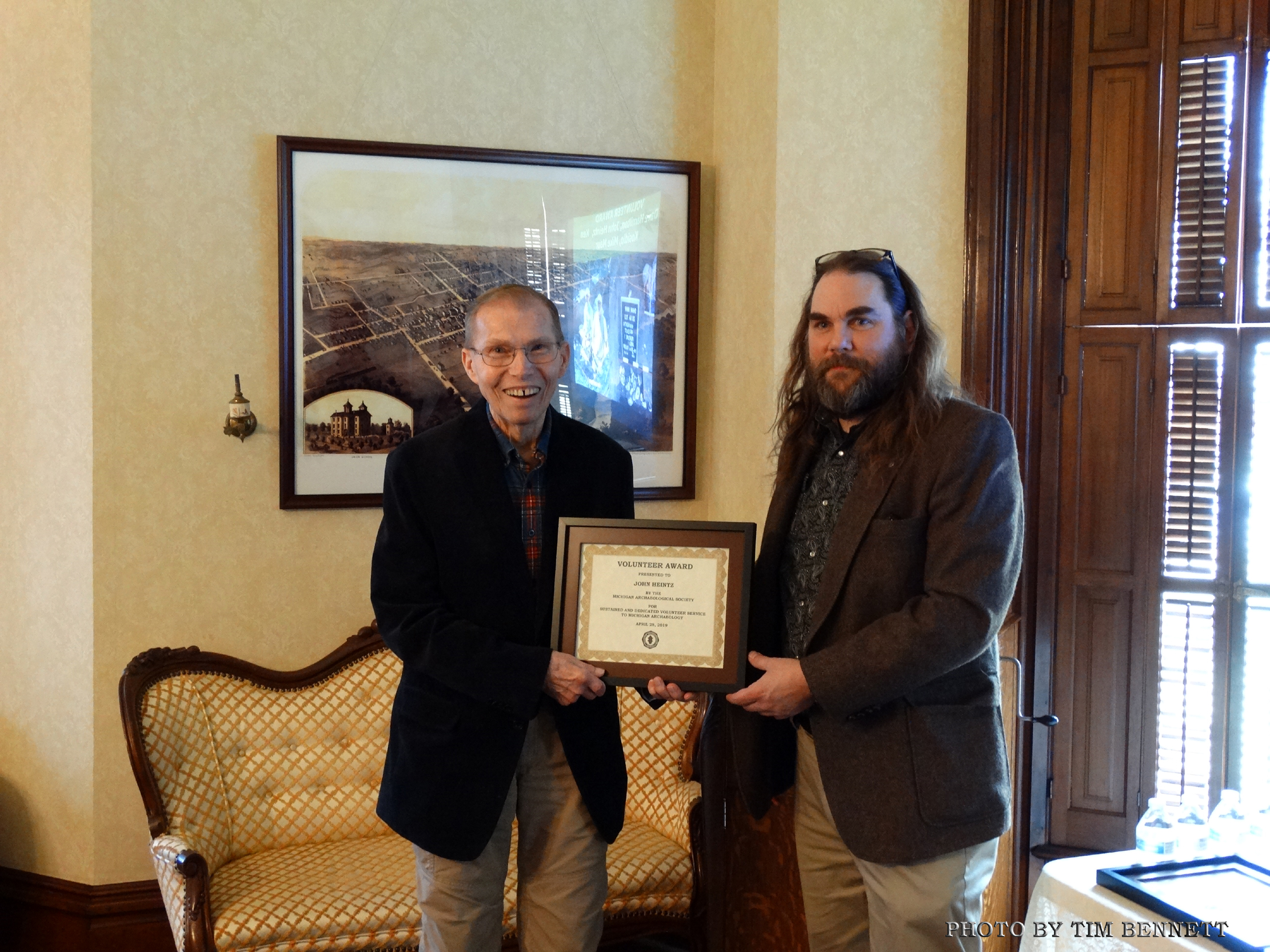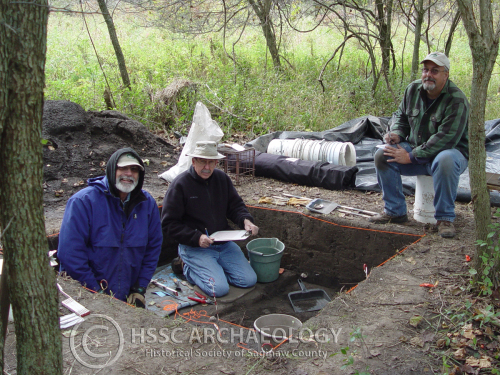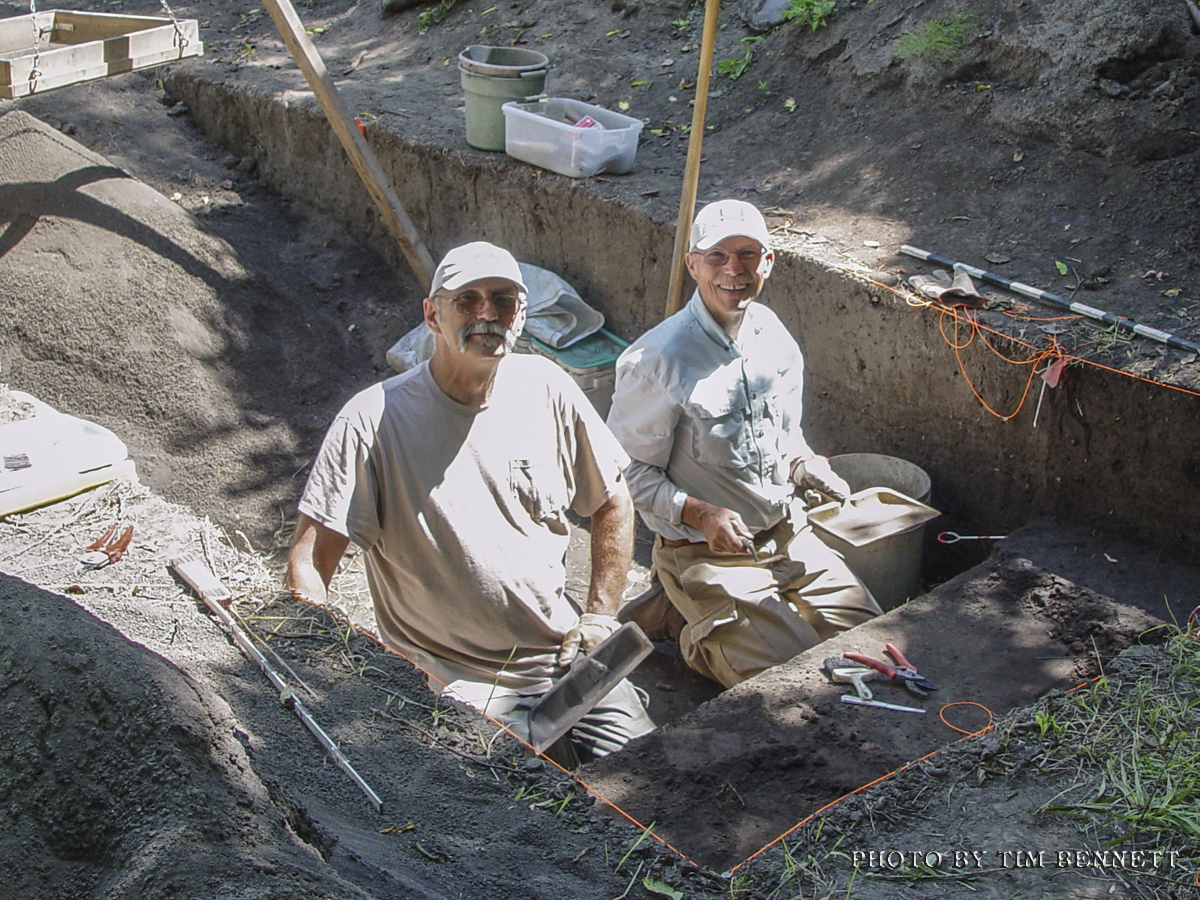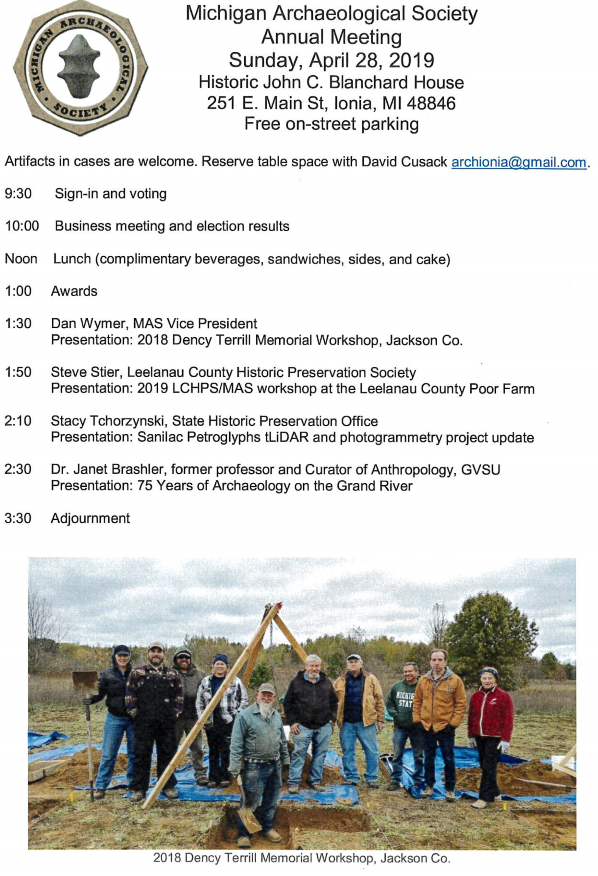 Everyone enjoyed the 2018 field workshop so much that discussions are underway about conducting another fall workshop for MAS members at the same prehistoric site in 2019. A report on the workshop results will be presented at the upcoming annual meeting. Discussions have also begun about a possible historic site spring workshop at the Leelanau County Poor Farm.
The 2019 MAS Annual Meeting will be held on Sunday, April 28 in Ionia at the John C. Blanchard House, 253 East Main Street.  The Blanchard House is the Ionia County Historical Society museum.  More details will be posted as they become available.
At the February 17 Michigan Archaeological Society Executive Board Meeting an updated Code of Ethics for Michigan Archaeological Society Members was unanimously approved. To view the updated Code click here.
Time is running out. The deadline for nominating MAS members to receive awards is March 1.  Nominations can be made by any MAS member in good standing. Please see below for details: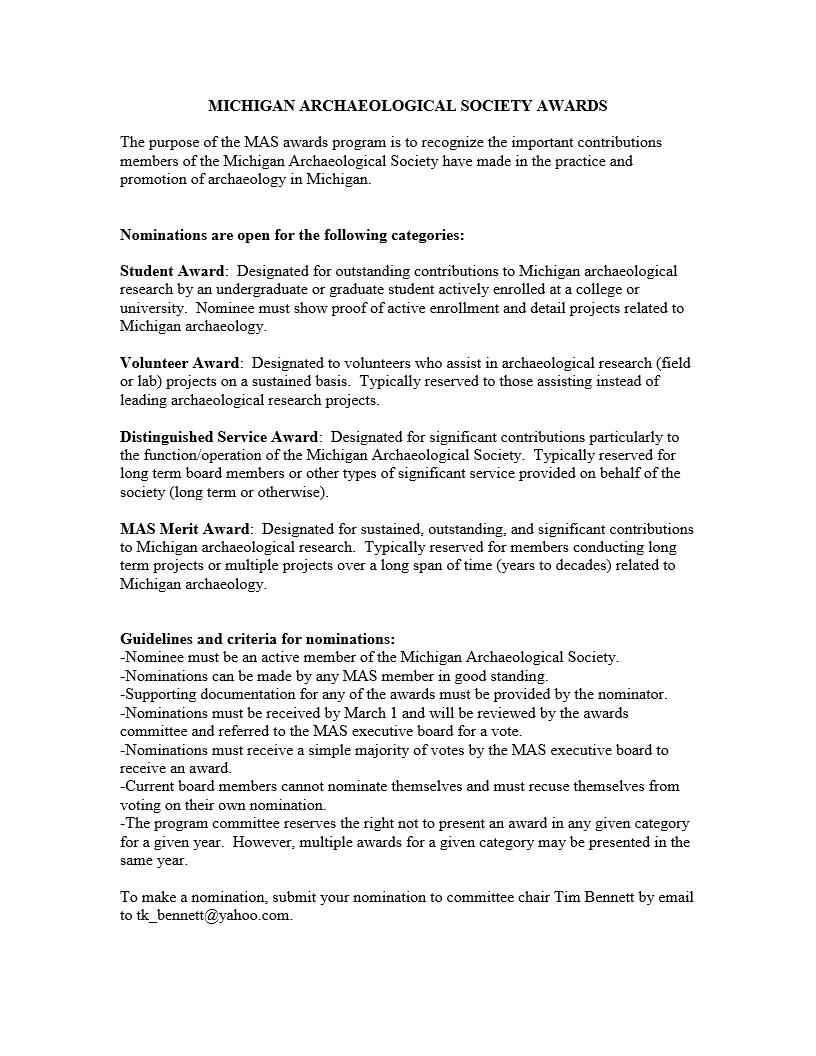 We thank Brooklyn Exponent Newspaper publisher Matt Schepeler for permission to post this copyrighted article on our website: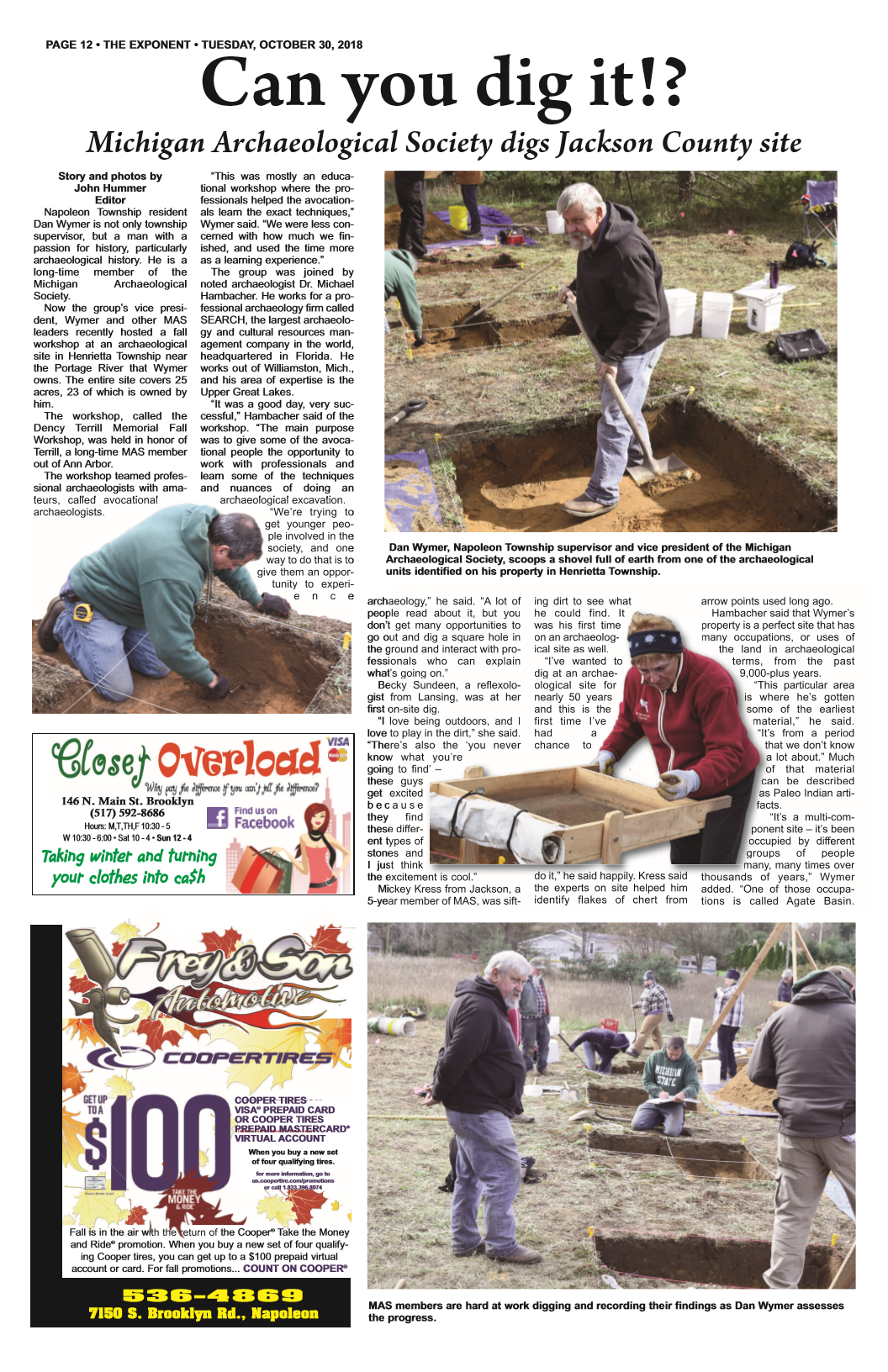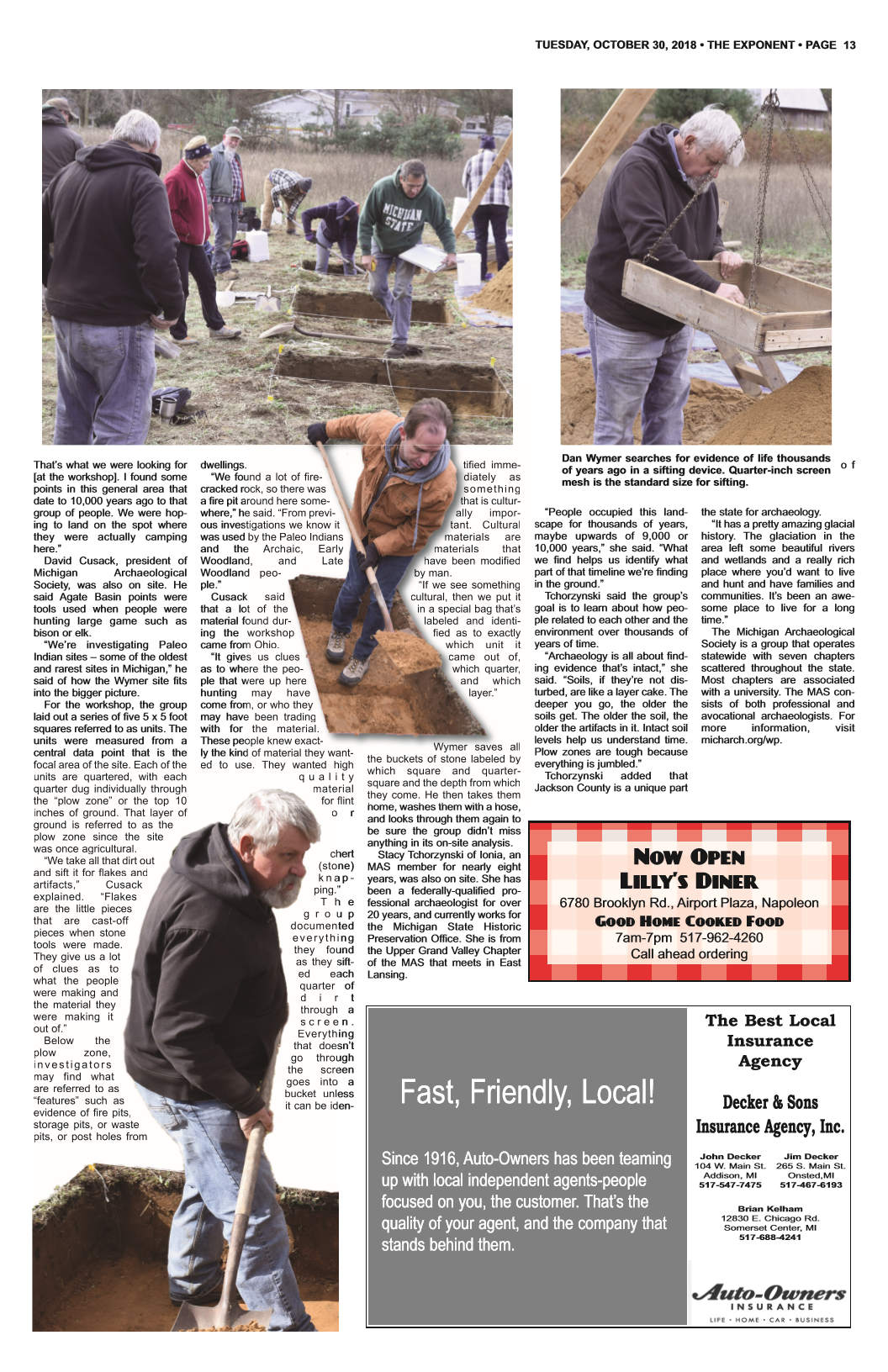 Archaeology Day 2018 at the Michigan History Center in Lansing is October 13. Admission is free and parking is free. Be sure to mark your calendar.
For details click here:  Archaeology Day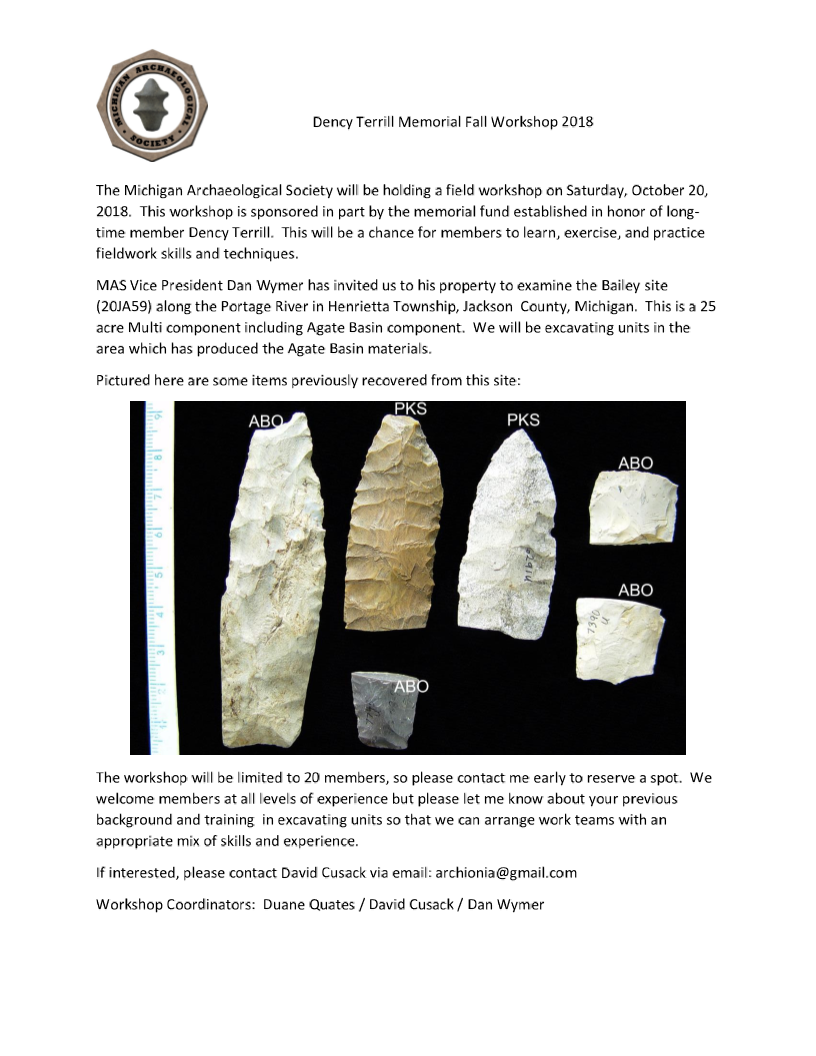 Two great new books have just been published:
Prehistoric Copper Mining in Michigan – The Nineteenth-Century Discovery of "Ancient Diggings" in the Keweenaw Peninsula and Isle Royale by John Halsey
Manoomin – The Story of Wild Rice in Michigan by Barbara Barton
For more information click here.
The MAS Facebook page is a great place to stay in touch with what's happening in archaeology. To visit the MAS Facebook page click here.
MAS local chapters are the best source of up-to-date information about chapter meetings, guest speakers, and local events.  For a menu of links to individual chapter information click here.
To see past News & Activities postings click here to go to the News & Activities Archives.